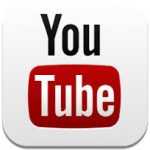 We're now on YouTube! Follow this link to our Unity Church Youtube channel: Unity Church or click the YouTube icon on the left.
If you subscribe to the channel, you will receive an email notice each time. It's free. On our page, you will see the red "subscribe" button beneath the banner, on the right side. Click the button and you're signed up. It's that easy.
Video has become a very important part of today's culture. It's a great way to introduce our ministry to family and friends without pressure. We're currently running a few selected programs and will add more in the future.
Thank you for your continued support and encouragement!